Israel Journal COLLEEN TINKER
NUMBER 16 — WEDNESDAY, NOVEMBER 12, 2008
Home again!
Hi, all-- We're back! We got home last night about 2:00 AM. Counting the almost-three-hour layover in Newark, NJ, our trip took about 22 hours. The flight from Israel to Newark was about 12 hours; the trip from Newark to Los Angeles was about five. And then we rode a shuttle van home. Whew!
We're trying to recover and do laundry and catch up on email (no small project in itself!) and get our sleep back on schedule. Plus--have you ever had a 21-year-old-guy house sit? Our younger son stayed here while we were gone. The house is great…but we had to go get real food back in the refrigerator!
It's so good to be home!
---
Copyright 1999-2008 Graphics Studio, Redlands, CA USA. All rights reserved. Revised November 17, 2008. Use of this site and forum signifies your acceptance of the Terms and Conditions. Send comments and questions to formeradventist@gmail.com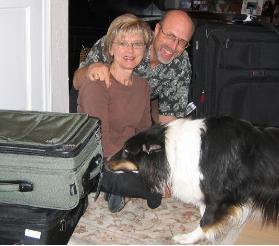 Our dog Rocky smells the foreign places our suitcases have been as we enjoy being home.